9 Inch Fabricated Rear Housing
Strange Engineering, the leader in driveline and suspension for over 50 years, is proud to introduce the new Ultra 9 in Fab rear housing to its line of rear end components! The Ultra 9 in Fabricated rear is available in a variety of configurations including the bare center, tubes, housing ends, and mounts.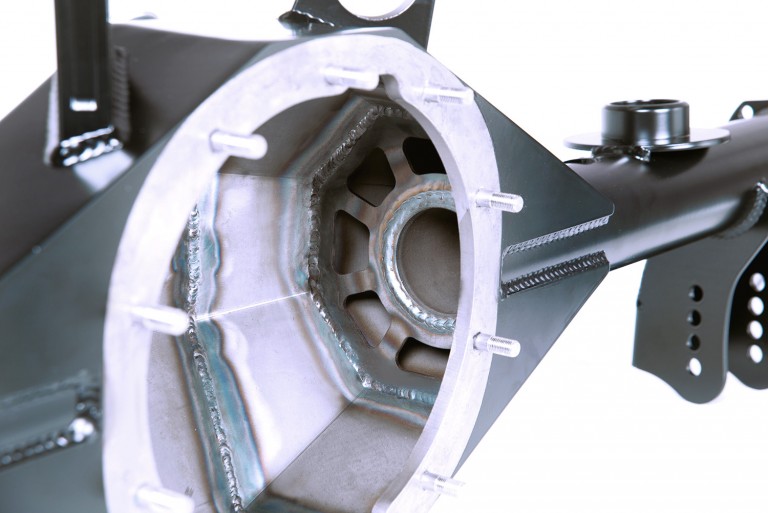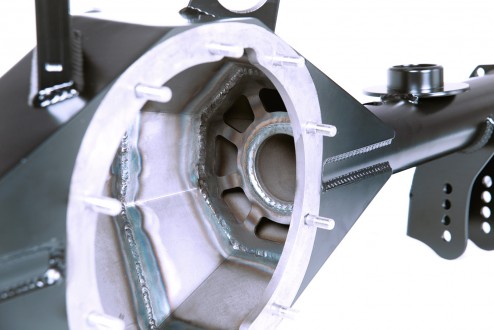 The Strange Fab 9 rear end centers are constructed from .125″ alloy steel with a heavy duty .375″ faceplate. Triangulated design provides rigid housing tube support for more consistent and straighter launches. Internal radial gusset plates brace the end of the housing tube and increase overall housing stiffness. Tube insertion locations are slotted for 5″ to allow complete and secure welding of the tubes to the housing. The housing is designed to provide the clearance necessary for cases with heavy duty main caps and also allowing the use of 9″, 9 ½ ", and 10" gear sets. All housing centers come equipped with center section studs installed.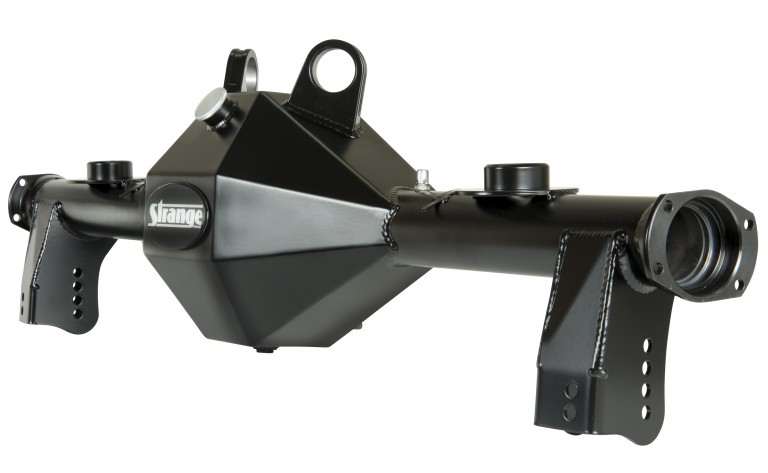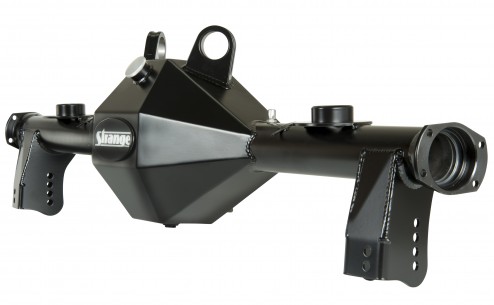 All housings begin with a Strange Ultra Fabricated center as described above. Fill and drain plugs are installed to facilitate fluid changes. Your choice of .250″ wall, 3″ or 3 ¼ " mild steel tubing is installed deep into the housing until fully engaged into the internal gusset near the face plate. Using an alignment jig, the tubing is welded 360 degrees to the outside of the housing, along the housing slots and to the internal gusset. The mounts are attached to the jig and welded to the tubes. Lastly, the ends are welded after all other welding is complete to ensure perfect alignment with the center section.


Some may choose for the housing to be tubed. Larger tubing is stronger, but your intended mounts may dictate tube diameter. The purpose for purchasing a housing like this (tubed) is for a builder that will be installing their own mounts and may also trim the tubing further. A welding jig will be required to install the housing ends after all other welding has been completed.


Another option offered is the Ultra Fabricated housing with ends. Since the builder will be installing their own mounts, extreme caution and care must be taken during the welding process as housing end alignment can be compromised. An alignment jig should be used afterwards to ensure that warping did not occur. Additionally, you may choose to order the Ultra Fabricated housing with mounts. In addition to the information above, a builder might order this if they are unsure of the final width, or already have housing ends and an alignment jig. It may also be the base for a housing that will use a floater kit. The option to fit and weld purchased Strange floater spindles is available at an additional charge. (Any fully welded housing can be ordered with optional satin black powder coat finish.)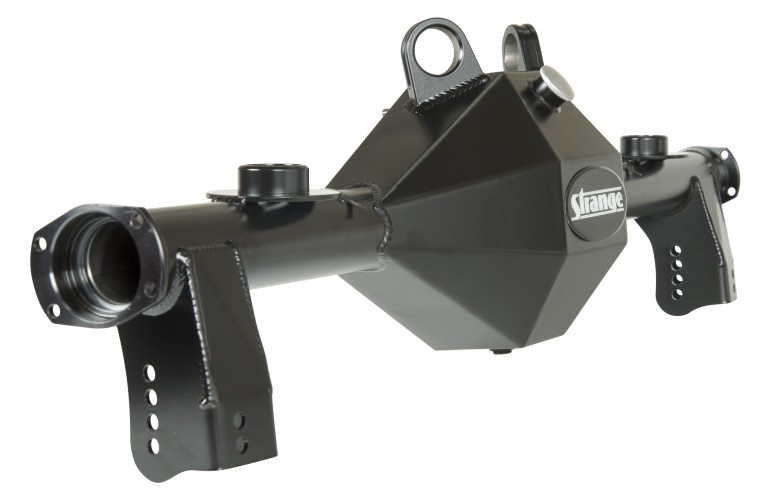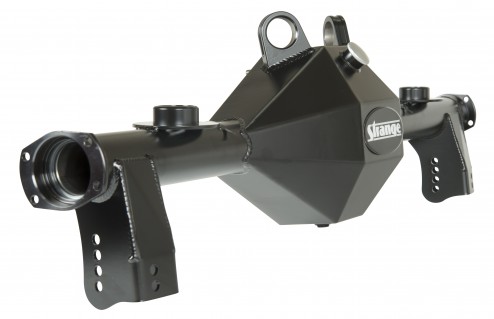 For the full package, we suggest the Ultra Fabricated Housing with Ends and Mounts- let us do the work for you! This configuration is the safest way to maintain the proper alignment of the housing ends. The fixturing and welding of the housing ends is always our last operation. For vehicles that will see very hard launches, there is an option to weld a back brace along the rear of the housing. It is designed to eliminate housing and tube flex that can occur under harsh conditions. An optional satin black powder coat finish is also available with this option.


For more information about our  GM A Body Fab 9 rear end or for our GM B body Fab 9 Rear End. and for ordering, please call our sales office at 847-663-1701. One of our knowledgable sales techs will be able to guide you through the process of choosing your perfect application! Also, if you have our new catalog, applications can be narrowed down by viewing the charts on page 76 of our catalog.
So give us a call at 847-663-1701 and get Strange Engineering underneath you to take you to the winners circle! #GetSomeStrange #RaceStrange !