Brakes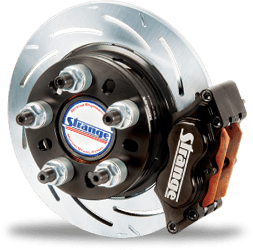 ---
Strange Brakes
Successful drag racers know, you must go as fast as possible – as quickly as possible -then come to a halt even more quickly. The more horsepower and traction that you produce, the faster you go. The faster you go, the better your brakes had better be.
Strange Brakes consist of three basic components; calipers, rotors and brake pads. Strange Drag Racing Brakes are made-up of these components.
Brake Calipers
The Four-Piston Directional Caliper is available in steel or aluminum. This caliper features off-set (diameter) stainless steel pistons that promote balanced pad wear and maximum heat dissipation.
Four-Piston Billet Calipers are loaded with four 1.75-inch stainless steel pistons for maximum clamping force. Billet construction delivers superior bridge strength.
Four-Piston Billet Low Profile Calipers (rear) fit where other calipers fail. The low-profile design allows this caliper to be used with new 15-inch bead lock wheels. Each piston has its own pad to eliminate the possibility of warpage.
Four-Piston Non-Directional Calipers also use a 1.75-inch stainless steel piston. Available in steel or aluminum, this caliper delivers top notch clamping force and comes with anti-rattle clips included.
Two-Piston Calipers feature a fully machined aluminum body and 1.75-inch pistons. This caliper is recommended for use in drag race applications that weigh 2,600-pounds or less.
The One-Piston Floating Caliper utilizes internal bearings and sliders to prevent the caliper from binding or sticking. Square pad design allows the pad to slide freely for optimum pad life.
Rotors
Directional Slotted Rotors are the most popular rotors offered by Strange. Meticulous field testing and dyno testing have yielded a rotor that maximizes heat dissipation and reduces warpage while minimizing rotational weight – all without sacrificing stability.
One-Piece Rotors are forged from either steel (not burnouts) or aluminum for superior strength. Instead of making the sides of the hat area thinner for weight reduction, lightening holes are used in strategic locations.
Two-Piece Floating Rotors are engineered for weight reduction in abusive drag racing conditions. Just ask NHRA World Champion Gary Stinnett. The Strange two-piece floating design delivers maximum longevity.
Two-Piece Floating (Stainless Steel) Rotors further combat the demons of braking under extreme temperatures. Stainless provides greater corrosion resistance without concern for warping or distortion.
Brake Pads
Strange Drag Racing Brake Pads are available in two configurations. Soft metallic pads are used in all front applications, and in the rear for vehicles traveling under 150 MPH. With these pads, you get superior cold holding ability. Hard metallic pads are used in the rear for those going over the 150 mark to provide higher brake fade protection.
Strange Brakes
Strange Carbon Brakes offer many advantages over cast iron or steel. There is a significant reduction is overall weight, along with dramatically improved heat dissipation. Carbon brake kits virtually eliminate the possibility of cracked or warped rotors and brake drag. The Strange Front Carbon Brake Kit is popular in NHRA Funny Car, Comp Eliminator, Pro Mod and Pro Stock Classes.
---