Rear Ends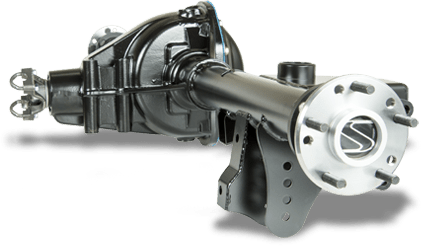 ---
Street & Track Rear Ends
As the global leader in high-performance drag racing rear ends, Strange Engineering offers complete rear ends, rear end parts, rear end cases, complete driveshafts, driveshaft components, performance steering and suspension parts, high-performance brake kits, and brake parts for drag racing applications. For more than 50-years, Strange has proven itself the leader in manufacturing high-performance rear ends that cover an extensive range of drag racing applications – from street to NHRA Top Fuel. Drag racing not your thing? That's alright; We also have a prominent NASCAR presence as the primary supplier of Ford Racing 9-inch nodular iron rear end cases.
Rear Ends, Rear End Parts, and Cases
To say that Strange rear ends are legendary is no exaggeration. Drag racers love Strange rear ends and rear end parts. Quality parts, combined with the best builders in the industry, equal complete rear ends that set the industry standard. There's a reason that the Strange logo is proudly displayed by so many loyal consumers.
Strange is also the exclusive supplier of the big 3 factory Drag Racing cars. We build the rear ends for Ford Cobras, Chevy COPO, and Mopar Drag Packs. We are also the only rear end manufacturer who builds the drag racing rear ends for Top Fuel racers. The Eight thousand horsepower beasts at the pinnacle of the sport.
Start with the dependable Ford 9-inch platform. By far, this rear end has the widest application reach. With a strengthened case and Strange parts, the Strange 9-inch delivers with longevity and durability to exceed that of the Ford 9-inch. As with our other rear ends; Strange Ford 9 inch rear ends can be custom fabricated for virtually any vehicle.
The Dana 60 rear axle (Strange S60) and GM 12-bolt platform have their good points, as well. Strange has not ignored these popular rear ends. We offer complete, custom high-performance rear ends in S60 and GM 12-bolt rear end configurations. Strange also offers several performance enhancing features for these rear ends.
---