Shocks, Struts, Steering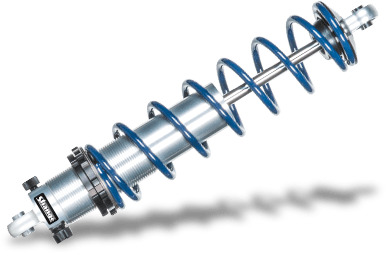 ---
Strange Shocks, Struts and Steering
Strange Engineering offers high-performance and drag racing steering and suspension parts; as well as custom and bolt-in shocks, struts and springs.
Strange Drag Race Shocks are developed, in conjunction with some of the brightest minds in drag racing, for use in Pro Mod and Sportsman Class drag race applications. Strange Aluminum Coil-Over (single and double adjustable) and Koni Aluminum Coil-Over (double adjustable) Shocks make precision tuning the suspension on drag race vehicles a breeze. Coil springs, spanner wrenches (required to adjust coil-overs) and spring seat bearing sets are sold separately.
Strange Ultra Series Drag Race Coil Over Shocks feature in-line and piggyback reservoir technology in a fully adjustable drag racing shock. Monotube construction, a hollow induction hardened super finished chrome rod and a 48-millimeter hardened piston (with Teflon coating) make this integrated reservoir drag race shock lighter without sacrificing durability or longevity.
Strange Aluminum Bolt-in Shocks and Strange Adjustable (Single and Double) Aluminum Bolt-in Shocks deliver the control you want – combined with the convenience of factory-style installation. Manufactured from aircraft quality aluminum for weight reduction and durability; these top-quality aluminum shocks can also be re-valved to optimize longevity.
Strange Camaro and Mustang Shocks and Struts are designed as bolt-in (single and double adjustable), application specific components for street and strip applications. Eleven adjustment settings yield a superior level of control over OEM suspension damping systems.
Strange Forged Aluminum Strut Packages (stud or eye mount) provide a firm foundation for building a front suspension on your drag race only vehicle. Designed in conjunction with F.J. Smith Race Cars, Strange GT Strut Packages are intended for use in NHRA's SS/GT Classes. Custom fabricated to your specifications, packages include top-tier Strange Forged Aluminum Struts, lightweight spindles, brake mounting hardware and lower control arms. Strange Forged Aluminum Strut Packages are (single and double) externally adjustable and offer a significant upgrade over traditional A-frame control arm systems.
Hyperco Springs are designed for use with Strange Shocks and StrutsStrange Engineering has brought the premier Indy, Formula One and NASCAR spring manufacturer to drag racing. The spring is an intricate component of the suspension that can be overlooked. The Hyperco springs are cold-wound from pre-heat treated SAE 9254 chrome silicon wire and thermally stress relieved. Hyperco's strict manufacturing tolerances assure the racer of springs with a tolerance of +/- 2%. Hyperco Coil Springs are better than top-tier springs sold by other manufacturers. Knight Springs are a high quality alternative at an attractive price.
Strange Drag and Altered Steel Spindles and Strange Funny Car Adjustable Height Spindles, machined to exacting tolerances from 4130 chrome-moly heat-treated steel and billet aluminum, include steering arms, end caps, thrust washers, spindle nuts, cotter pins, and weld bosses.
Strange Quick Release Hubs are completely self-contained and made from solid billet aluminum. Designed with a keyed spline design (with built-in stub shaft) for easy steering wheel alignment, to accommodate Grant and Sparco steering wheels. SFI Certified.
Strange Steering Boxes are custom tailored for use in Funny Car, front engine dragster, and altered applications which use a drag link steering system.
Strange Rack and Pinion Steering Units are manufactured for use in dragsters and door cars. Both are of the highest quality and workmanship and worthy of the Strange moniker.
---