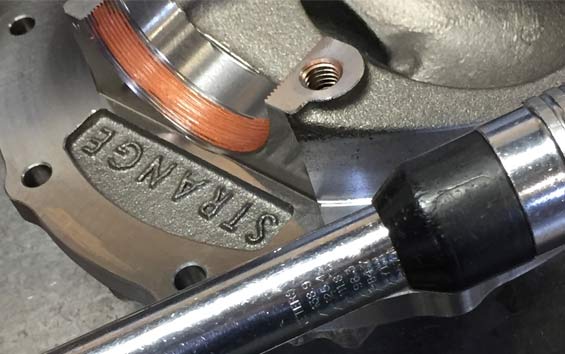 Torque Recommendations
This sheet contains Ford 9 inch torque specs, along with specifications for other popular rear ends.
Also included are recommendations for wheel studs, lug nuts, u-bolts, and housing end studs.
This assumes that the components are in good condition, and not fatigued.
Fasteners that have been in service for a long time should be periodically replaced.
Always follow other manufacturers suggestions when using their components.
Didn't see what you were looking for?
Please give us a call – (847) 663-1701
Dana 60 / Strange S60
Torque
Lubricant
Thread Locker
Main Caps
80 ft lbs
Anti-Seize®
None
Ring Gear Bolts
110 ft lbs
None
Red Loctite®
Pinion Nut
250 ft lbs
None
Red Loctite®
Cover Bolts
25 ft lbs
None
None
LPW Preload Studs
8-10 ft lbs
None
None
Ford 8.8
Torque
Lubricant
Thread Locker
Main Caps
85 ft lbs
Anti-Seize®
None
Ring Gear Bolts
80 ft lbs
None
Red Loctite®
Pinion Nut
Using Crush Collar
Tighten nut until it takes 15-20 inch lbs of torque to rotate the pinion bearings
None
Self Locking Nut
Using Solid Spacer
200 ft lbs
None
Self Locking Nut
Cover Bolts
25 ft lbs
None
None
LPW Preload Studs
8-10 ft lbs
None
None
Ford 9″ – All Cases
Torque
Lubricant
Thread Locker
Case to Housing
35 ft lbs
None
Self Locking Nuts
Main Caps – Except Billet
80 ft lbs
Anti-Seize®
None
Main Caps – Billet Case
5/16″ Nuts
25 ft lbs
Anti-Seize®
None
9/16″ Nuts
120 ft lbs
Anti-Seize®
None
Adjuster Nut Lock Tab Bolt
10 ft lbs
None
None
Ring Gear Bolts
7/16″ – Grade 8
70 ft lbs
None
Red Loctite®
1/2″ – Grade 8
105 ft lbs
None
Red Loctite®
7/16″ – ARP
85 ft lbs
None
Red Loctite®
1/2″ – ARP
120 ft lbs
None
Red Loctite®
Pinion Support Bolts – Except Billet
35 ft lbs
None
None
Pinion Support Bolts – Billet
40 ft lbs
None
None
Pinion Nut
Using Crush Collar
Tighten nut until it takes 15-20 inch lbs of torque to rotate the pinion bearings
None
Self Locking Nut
Using Solid Spacer
28 Spline Pinion – 200 ft lbs
None
Self Locking Nut
35 Spline Pinion – 250 ft lbs
None
Red Loctite®
Sight Plug
40 ft lbs
None
None
Tail Bearing Retaining Screws
Hand Tight
None
Blue Loctite®
GM 7.5 / 7.625
Torque
Lubricant
Thread Locker
Main Caps
60 ft lbs
Anti-Seize®
None
Ring Gear Bolts
55 ft lbs
None
Red Loctite®
Pinion Nut
Uses Crush Collar
Tighten nut until it takes 15-20 inch lbs of torque to rotate the pinion bearings
None
Self Locking Nut
Cover Bolts
20 ft lbs
None
None
LPW Preload Studs
8-10 ft lbs
None
None
GM 8.5 10 Bolt
Torque
Lubricant
Thread Locker
Main Caps
60 ft lbs
Anti-Seize®
None
Ring Gear Bolts
65 ft lbs
None
Red Loctite®
Uses Crush Collar
Tighten nut until it takes 15-20 inch lbs of torque to rotate the pinion bearings
None
Self Locking Nut
Cover Bolts
20 ft lbs
None
None
LPW Preload Studs
8-10 ft lbs
None
None
GM 12 Bolt Car
Torque
Lubricant
Thread Locker
Main Caps
OEM Housing
60 ft lbs
Anti-Seize®
None
Strange Housing
65 ft lbs
Anti-Seize®
None
Ring Gear Bolts
45 ft lbs
None
Red Loctite®
Pinion Nut
Using Crush Collar
Tighten nut until it takes 15-20 inch lbs of torque to rotate the pinion bearings
None
Self Locking Nut
Using Solid Spacer
225 ft lbs
None
Self Locking Nut
Cover Bolts
25 ft lbs
None
None
LPW Preload Studs
8-10 ft lbs
None
None
Mopar 8 3/4 – 742 / 489
Torque
Lubricant
Thread Locker
Case to Housing
35 ft lbs
None
Self Locking Nuts
Main Caps
90 ft lbs
Anti-Seize®
None
Ring Gear Bolts
55 ft lbs
None
Red Loctite®
Pinion Nut
742 Case
240 ft lbs
None
Self Locking Nut
489 Case
Uses Crush Collar
Tighten nut until it takes 15-20 inch lbs of torque to rotate the pinion bearings
None
Self Locking Nut
U-Bolts
Torque
Lubricant
Thread Locker
3/8″
35 ft lbs
None
Self Locking Nuts
7/16″
40 ft lbs
None
None
Wheel Studs
Torque
Lubricant
Thread Locker
Into Axle Flange
12mm
90 ft lbs
None
Red Loctite®
1/2″
90 ft lbs
None
Red Loctite®
5/8″ – Bolt Type
95 ft lbs
None
Red Loctite®
5/8″ – Stud Type
50 ft lbs
None
Red Loctite®
Backside Lock Nut
95 ft lbs
None
None
Lug Nuts
Torque
Lubricant
Thread Locker
7/16″
80 ft lbs
Anti-Seize®
None
1/2″
90 ft lbs
Anti-Seize®
None
5/8″
130 ft lbs
Anti-Seize®
None
Housing End Studs
Torque
Lubricant
Thread Locker
3/8″
35 ft lbs
None
Blue Loctite®
1/2″
40 ft lbs
None
Blue Loctite®
Strange Housing Instructions
S-60 / 12 bolt
Ford 9-inch
Pro Mod / Modular 4-Link Housing