Driveline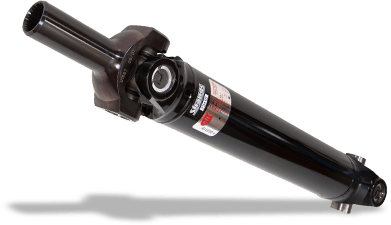 ---
Driveline Components
There is an old adage that says a chain is only as strong as its weakest link. The same could be said about the automobile driveline. After all, a rear end with the best gears in the world – and weak main caps – wouldn't be on the road long or make many passes down the dragstrip.
One of the most critical, and most overlooked parts of the driveline is often the driveshaft. Like the engine, transmission, and rear end, the driveshaft is only as strong as its weakest part. Strange drag racing driveshafts are custom made using the finest tubing, weld ends, transmission yokes, and universal joints in the industry. Strange Engineering driveshaft builders are second-to-none and, using state-of-the-art equipment, carefully construct and balance each Strange Driveshaft to within eight-thousandths of an inch of runout.
Tubing
As the largest of the Strange Driveline Components, the chrome-moly tubing must be straight, hard, and durable. Strange Driveshaft tubing (available in 3-inch and 3.5-inch outside diameter) has a wall thickness of .083-inch. It is seamless to ensure minimal vibration and the heat-treated chrome moly construction delivers rugged durability. Welded (MIG and TIG) yoke ends are accurately phased and electronically balanced to further eliminate vibration.
Weld Yoke Ends
You have a choice of Spicer HD or Strange chrome moly weld yoke ends in 1350 yoke or 1480-Series sizes. Making the switch to larger yokes/ends will yield a stronger and more durable driveshaft and now is the perfect time to make the upgrade. Weld ends are expertly phased to minimize vibration and MIG/TIG welded for long life.
Transmission Yokes
Strange Driveline Components include top-quality Spicer, Spicer HD, Strange HD, and Strange Chrome Moly transmission yokes. If you wish to use your own transmission yoke, that is acceptable, but it must be installed on the driveshaft during electronic balancing. Transmission yokes are sold with all necessary u-bolts and hardware included.
Universal Joints
Maintaining a small degree of flexibility and diminishing vibration, the universal joints are a vital link in the Driveline Components that make up a Strange Custom High-Performance Driveshaft. Spicer is a trusted name in universal joints. This small detail serves to further strengthen the best custom driveshaft in the industry. We carry the popular 1330 u joint and the recommended 1330 to 1350 u joint conversion.
Strange Driveshafts are available with an SFI Certification sticker at a nominal fee.
---