Performance Rear Ends (Complete Rear Ends For Drag Racing)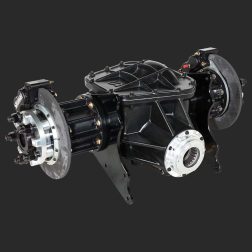 Strange Engineering has been making high performance rear end components and axles for over 50 years. Strange has proven itself as the leader in manufacturing race rear ends from street to Top Fuel applications. Strange also has a prominent NASCAR presence as the primary supplier of Ford Racing nodular 9 inch cases.
The dependable 9 inch Ford rear end has by far the widest application reach. Strange offers an impressive array of internal performance parts, Ford 9 inch spools, ford 9 pinion supports, and ford 9 gear sets to build industry-leading complete drag racing rear ends.
The popular 12-bolt Chevy and the legendary Dana 60 rear end (Strange S60) have not been ignored. Strange has several performance enhancing features for these rear ends as well. Check out all of the options and rear end combinations for the proper bolt-in rear end assembly for your application.