Ring and Pinion Gear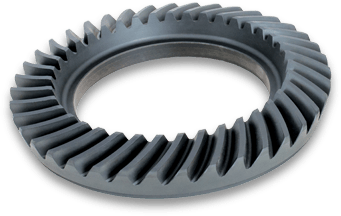 ---
Ring and Pinion Gears
When it comes to the automotive rear end, nothing is more integral than the ring and pinion gear. As the leader in the high-performance drag racing rear end industry, Strange Engineering makes it their business to know more about ring and pinion gears development than anyone else.
Strange has teamed-up with U.S. Gear, Spicer, Richmond and Motive Gear Performance to produce a wide selection of ring and pinion gears, as well as ring and pinion gear installation sets, that will meet the requirements of every type of automotive enthusiast – from weekend cruisers to NHRA professional drag racers.
Ring and pinion gear sets are offered for Chrysler, GM, and Ford rear ends. Including the popular Ford 9 in Gears and Ford 8.8 inch gears. Street racers, circle trackers, and moderate drag racers will benefit from the combination of strength and hardness exhibited in the 8620 Pro Street/Standard Gear Set. Super hard 8620 steel and a precise heat treatment procedure make this gear set strong enough to last on the street and hard enough to withstand the suddenness of competition maneuvers.
Drag Race/Pro Gear Sets are designed for the more serious (drag race only) drag racing competitor. Manufactured from a slightly softer 9310 nickel steel compound, the Pro Gear Set is designed primarily to resist the high impact shock associated with drag racing only applications.
Strange offers Ring Gear Lightening for all gear sets, that do not come from the factory that way. In this process, excess steel is removed to reduce weight without sacrificing strength. This process will benefit most applications. Strange Ring and Pinion Gear Basic Installation Kits include ring gear bolts, shims, a pinion seal, a pinion nut, crush sleeve (if applicable), a cover gasket/tube of sealant, marking compound and a brush. Bearings and races are not included in this kit.
Strange Master Ring and Pinion Gear Installation Kits include Timken bearings and races, along with everything in the basic installation kit. It is important that all items in the installation kit be used when replacing ring and pinion gears. Inspect the carrier/spool when it is removed. Consider axle bearing replacement as well.
Order any Gear Set Online and get free delivery and handling on your entire order!
Offer excludes truck freight and oversize fees. UPS Ground Only.
Valid on orders shipped in the contiguous United States.
---