Axles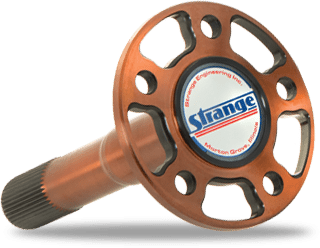 ---
Drag Racing Axles
For more than five-decades, Strange Engineering has built a trust between themselves and hard charging drag racers at every level. Laying down roots in a two-car garage they have seen their aftermarket high-performance rear end, differential, and axle business develop into a household name that requires a 120,000-square foot manufacturing/research and development facility. The same family focused enthusiasm for the high-performance industry, present when the company was founded, are still the driving force in the desire of Strange Engineering to deliver top-quality customer service combined with industry-leading quality in every product that they sell. Currently, more Strange drag racing axles, high-performance rear ends, and accessories (wheel studs, retainer plates, axle bearings, and c-clip eliminators) are sold than all other comparable brands combined.
From street racers to NHRA Funny Car, from bracket racers to NHRA Top Fuel; Strange Engineering takes great pride in offering a superior product designed to work best for your specific application. The extensive Strange Engineering inventory allows them to provide quick turnaround service for all your custom drag racing and street application needs. In most cases, you can expect a two-day turn around whether you need custom Ford 9-inch, GM 12-bolt, or Chrysler (Dana) components. Custom length alloy axles and Pro Race axles (solid or gun drilled) are in stock and ready for shipping; as are axle kits with chrome-moly studs, axle bearings, and retainer plates.
Hy-Tuf alloy steel was originally developed for use in the highly stressed landing gear of military helicopters and gun-ships. It is the material used in manufacturing Strange Pro Race drag racing axles. This ultra-strength alloy contains low carbon, high manganese, high nickel, and high molybdenum steels. The Strange Pro Race manufacturing process includes thru-hardening, which yields an extreme capacity for tensile strength (240,000 psi). At the same time – because of the low carbon content of Hy-Tuf – the axle remains relatively ductile. Some degree of ductility is absolutely necessary in high-performance and racing axle applications. The formula used in Strange Pro Race axles have helped them to earn the reputation as the best value in the industry.
Because Strange Engineering believes that their customers don't deserve to wait, they stock an extensive inventory of Pro Race high-performance, drag racing axles and rear axle kits. The most widely used combinations are kept in stock. However, after more than 50-years, we believe that we should know what our customers need. For this reason, you will not be charged extra for priority service if Strange doesn't have your Pro Race axle/s or axle kit in stock. We will make custom axles, to your specifications, at no extra charge.
Just like Strange Engineering Pro Race axles, Strange Gun-Drilled axles are made from Hy-Tuf steel, with involuted splines (33, 35, 40) for increased strength. Gun-drilling is the process of removing the core of the axle (along with a certain amount of flange material) and leaving a 7/8-inch hole in the center of the axle shaft. This is done to reduce rotating weight. The 40-spline Strange Gun-Drilled axle is thought to be the ultimate high-performance and drag race axle because of its noticeable reduction in weight without sacrificing any significant strength.
---