Ford 9 Inch Third Member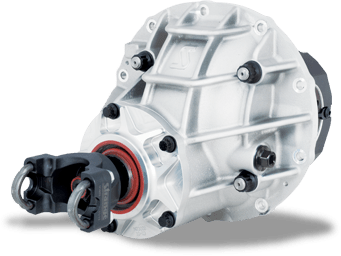 ---
Ford 9 Inch Third Member
As one of the most popular of all the rear end configurations, the Strange Ford 9 Inch is loaded with strong, durable, and safe components. Possibly the most celebrated of all these great parts is the third member. The Strange third member not only makes this rear end unique; it also sets it out in front of the competition.
Other rear ends are designed so that the ring and pinion are setup inside of the housing and underneath the vehicle. Since ring gear/pinion installation and setup can be relatively involved (not to mention bearing service), performing this task underneath the vehicle can propose a challenge when a lift is not available. The design of the Ford 9 inch rear end allows for the removal of the 3rd member so that the technician may setup the ring gear and pinion away from the remainder of the rear end housing and out from under the vehicle (on a work bench or in a specially-built jig). After the ring and pinion are setup and adjusted remotely, the third member can be bolted back into the housing with very little effort. This makes the Ford 9-inch design perfect for drag racing applications in which repairs must often be performed on the fly.
No matter what your level of competition or how much power your vehicle is capable of producing, Strange Engineering offers a Strange Ford 9-inch Third Member (Center Section) that will exceed your expectations.
Strange 9-Inch Lightweight Aluminum Center Section
The Strange LW Aluminum Center Section is recommended for street and show applications. This option provides a lightweight alternative to OEM that is also a dramatic appearance upgrade.
Ultra Aluminum Center Section
With massive billet aluminum main caps and a design which draws the pinion deeper into the case, the Strange Ultra Aluminum Center Section helps to eliminate torsional flex and provide extended gear longevity.
HD Pro Aluminum Center Section
Popular applications for the Strange HD Pro Aluminum Center Section are high-performance street, street/track, circle track, road race, and others where maximum gear longevity in a lightweight alternative (to OEM) is required.
Pro Nodular Iron Center Section
Designed for use in applications where weight is not an issue, Strange Pro Nodular Iron Center Sections are the strongest and most durable iron cases in the industry. A forged aluminum pinion support and your choice of a pinion yoke or a spool round out this popular option.
S-Series Nodular Iron Center Section
Also offered with either a pinion yoke, posi or spool, the S-Series Center Section offers a more dependable alternative to OEM units. Street/Strip applications are ideal for this option that includes a cast iron pinion support.
12-Bolt Drop Out Center Section
This innovative lightweight aluminum center section is designed for applications where weight reduction is a key factor. This is a lightweight third member that is recommended for off-road (drag race) use only. The 12-bolt ring gear design delivers greater torsional resistance. This center section may also be used with lightweight, fabricated, custom housings.
Strange Billet Center Section
The Strange billet Center Section is designed much like the Ultra Aluminum Center Section – only stronger. Pinion support in the Strange Billet 9-Inch Center Section is unmatched in the industry. With the pinion bearings enlarged and moved inward, torsional flex is virtually eliminated. 9-inch, 9.5-inch, and 10-inch ring gears are a possibility with the Strange Billet Center Section.
---