The Quest for 200 MPH on Batteries Dragster, SR-37, embarked on a cross-country journey this past Saturday for fitting of it` s 2014 powerplant.  The dragster was loaded from its winter home at the Art Goldstrom Family's Nostalgia Street Rods in Las Vegas and into a "Don Garlits Museum of Drag Racing" hauler.  The hauler walls are rich with the history of the legendary "Big Daddy" and the Quest SR-37 Dragster is determined to make some history of its own.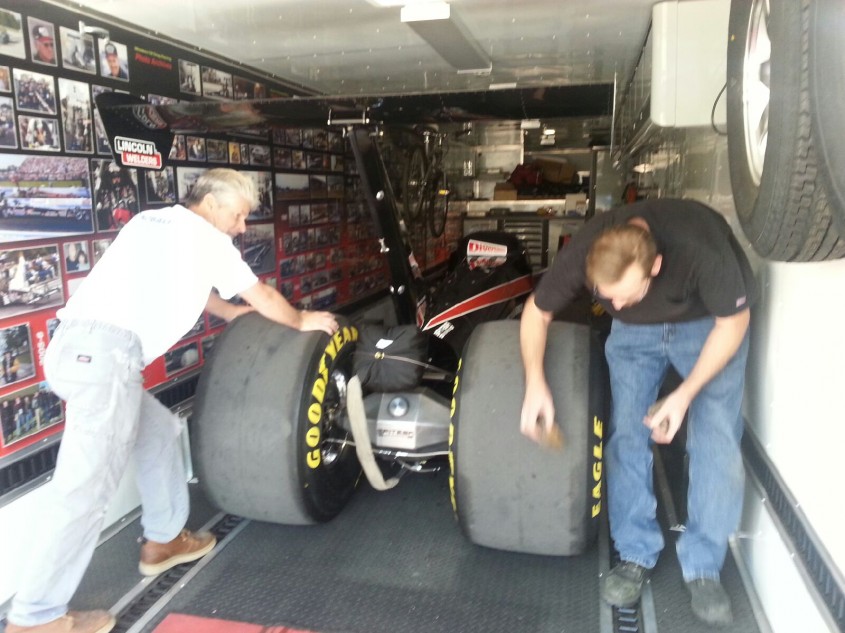 First up on the list of stops: the dragster will travel to Garlits' facility in Ocala, FL where the patriarch of drag racing will have a race seat custom fitted by Garvin Motorsports.  Afterwards, a team from Lawless Industries will visit for prep and installation of the 2014 BEV powerplant. The HighTech Systems LLC-engineered battery package is expected to produce 1500 kilowatts of instantaneous launch power, a horsepower rating in excess of 2000 hp! The SR-37 Quest for 200 MPH on Batteries Dragster team hopes to commence spring testing soon. Please stay tuned to the Quests`Facebook page and Twitter feed for an announcement soon on our kickstarter.com launch that will allow drag racing enthusiasts around the world to be a part of this exciting BEV technology project!
Want to know more about the "Quest for 200 MPH on Batteries" Dragster?! Always check the Strange Twitter, Strange Facebook, and Strange Web Blog for the latest info on the Quest! Now, for a deeper look….
The Quest Dragster is designed and constructed to be the first battery-electric dragster to exceed 200 mph on a ¼ mile drag strip and our goal is to accomplish this speed mark in 2014 with our driver, the legendary "Big Daddy" Don Garlits. 2014 marks the 50th anniversary of Garlits' historic first official 200 mph pass in 1964! The dragster will be powered by a 1500 kilowatt array of lithium polymer (LiPo) batteries, producing an equivalent horsepower rating of over 2000 HP!  The Quest dragster has already been launch-tested by "Big Daddy" Don Garlits with early versions of the LiPo battery-power packs and electric motor/controller systems. So who is behind this dream machine? The contributors as listed below:
Brad Hadman – Builder
Mike Gerry – Creator
Kenny Youngblood – Paint and Design
Eric Reyes – Graphics
HighTechSystems LLC – LiPo Batteries
Lawless Industries – Motors
Here is an inside peek at the co-owners "Big Daddy" Don Garlits, chassis builder Brad Hadman, and Quest Dragster creator Mike Gerry:
"Big Daddy" Don Garlits, hailing out of Ocala, Florida, is considered widely to be "the father of organized drag racing." His success came shortly after his start in 1950. Only 5 years later he scored his first major victory. Garlits ` first NHRA National event came in 1963 at none other than the Pomona, California Winternationals! His legendary career includes 17 World Championships, 10 AHRA, 4 IHRA, 3 NHRA, as well as 8 NHRA US Nationals Top Fuel final victories!
Another name that is not new to the game is that of Brad Hadman, chassis builder. Hadman has been constructing dragster chassis for nearly 40 years out of Tacoma, WA. His spectacular craftsmanship has landed him notoriety as the "industry leader in modern dragster chassis design and fabrication. It is not surprising that flipping through Brads` customer list is a lot like reading the "Who` s Who" of drag racing history, as he has produced more Top Fuel Championship cars than any other chassis builder worldwide!
Who, might you ask, was the creator of this massive plan? Well, that would be none other than Mike Gerry, out of Las Vegas, NV, and he has been creating show stoppers for quite some time. In 2001 Gerry created and produced a custom battery-electric dragster to herald Darrell Gwynns` return to the US Nationals. Mike also fabricated the battery dragsters as well as promoted "Match Races for a Cause", featuring Darrell Gwynn going up against Don Garlits. This event was in support of the Darrell Gwynn Foundation and also the Don Garlits Museum of Drag Racing.
We at Strange Engineering are proud to be a part of this and look forward to keeping our loyal customer base "in the know" on the progress on the Quest! Please like the Quests Facebook Page for images and updates!