Strange Engineering has teamed up with Richardson Boyz Racing. Strange Engineering will be the major marketing partner on the 1992 Super Stock Camaro, primarily driven by Ryan Richardson for the 2015 season!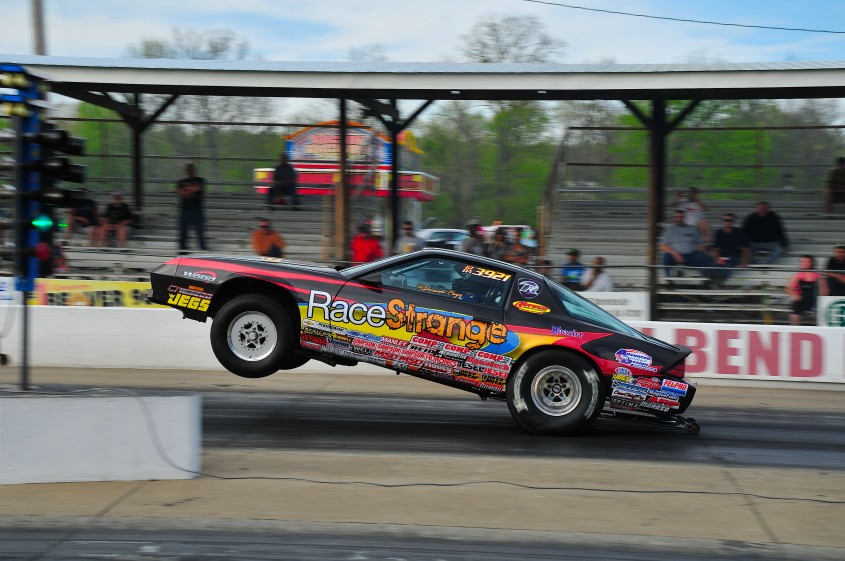 Edmond Richardson and Richardson Boyz Racing have been long standing loyal customers and supporters of Strange, and in return, we are teaming our marketing efforts this season and will be Co-sponsoring their event coming up this June! The Tennessee Southern Bottom Bulb Shootout presented by TCI Automotive will be this June 5th-7th, at US 43 Dragway! We will be hosting the "RaceStrange Friday" event as well as the "Strange Engineering Sunday" event! Friday night is $1,500 to win. Saturday and Sunday are $6,000 to win! Only $175 for a weekend entry, so get yourselves to Tennessee in June for some great racing!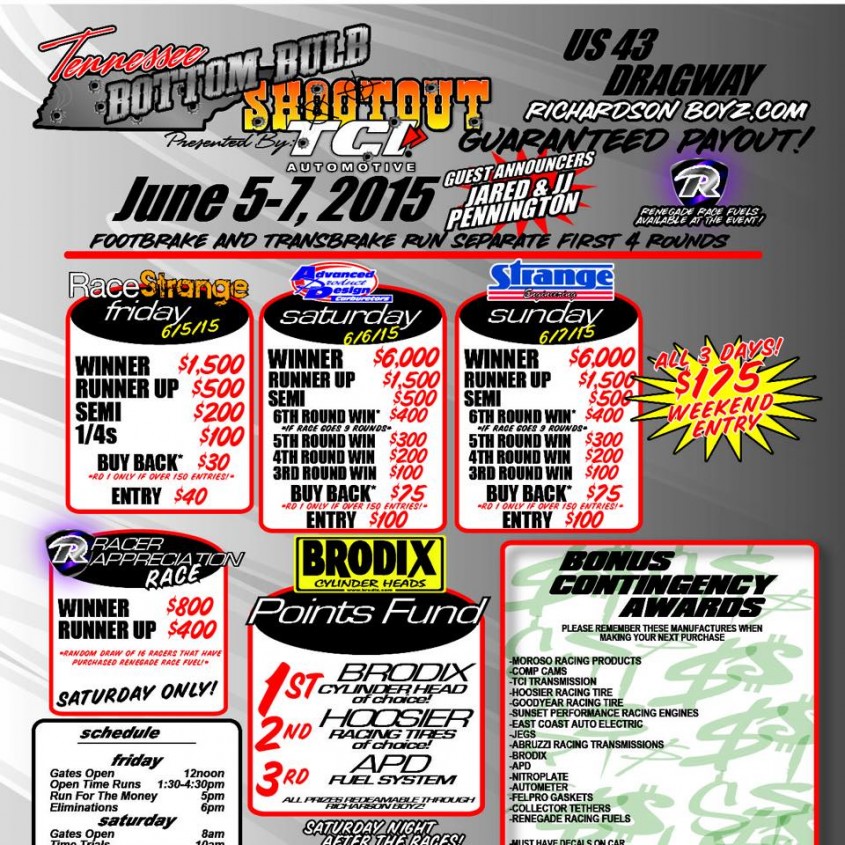 Also, listed below is the Richardson Boyz Racing schedule for the 2015 season ~ where they will be carrying Strange Engineering parts to support the racers at these events! So if you find yourself at one of the below listed events and are in need of some Strange products, head on over to see the Richardsons! And Remember, Don`t Just Race….Race Strange!
May 8-10 – Bracket racing, Beech bend in kentucky, Stock, super stock combo
May 15-17 – NHRA National event Atlanta, GA
May 22-24 – NHRA sportsnational Beech bend, Bowling Green, KY
May 29-31 – Bracket Racing
June 5-7 – Tennessee Summer shootout Presented by TCI Automotive at US 43 drag way
June 19-21 NHRA National event in Bristol, TN
July 2-5 – NHRA National event in Norwalk, OH
July 10-12 – Tenn Tuck Bracket arc in Bowling Green, KY
July 24-26 – Div 3 NHRA race in Columbus, OH
July 31- Aug 2 – Bottom Bulb Battle bracket race in Bowling Green, KY
Aug  7-8 – Div 3 NHRA race in St. louis, MO
Aug 28-30 – Div 3 NHRA race in Bowling Green, KY
Sep 2-7 – NHRA National event in Indy, "US Nationals"
Sep 18-20 – Div 4 NHRA race in Gilliam, LA – NHRA national event in Columbus, OH – NHRA national event in Charlotte, NC
Sep 25-27 – Div 4 NHRA race in Bristol, TN – NHRA National event in St. Louis, MO
Oct 2-4 – Bracket Race in Lawrence burg. TN at US 43 drag way
Oct 9-11 – Tenn Tuck bracket race in Beech Bend, KY
Oct 16-18 – NHRA national event at Texas Motorplex