The Strange Engineering Team is gearing up to bring our latest and greatest products to this years 2014 SEMA show! We are sharing our booth space with US Gear, so make sure to look for your Strange Engineering representatives there! The US Gear/ US Strange/ Strange Engineering booth will be booth # 22622. We will be utilizing a 10′ area, showing off our latest products, including our full line of master install kits and the US Strange gear line!
Among the products being showcased for our master install kits, we will be bringing our 9" Ford Center Sections and components, Axles, Brakes, Suspension, and the all new Street Floater kit! Included in our US Strange line, we will be showcasing our Drag Race Pro gear sets (9310) and our Pro Street sets (8620), as well as the brand new line: the 9.5 and 10 inch development gear sets that will fit into your 9-inch Ford application! The US Strange Gear line, as well as ALL Strange Engineering products, are made 100% in the USA! We welcome you to stop by our booth, and learn more about what we are offering this year, and inquire with JC (Strange Engineerings` Manager of Sales) on a more thorough understanding of the difference between the Drag Race Pro, and Pro Street kits! We will also have Tracy Geving on site to meet and greet current and prospective distributors from around the world! And last but not least, Bob Angliss from U.S. Gear will be in attendance and available to answer any questions about ring and pinions and how they are made! U.S. Gear manufactures the highest quality gears in the automotive aftermarket and are featured in the Strange Engineering rear end assemblies!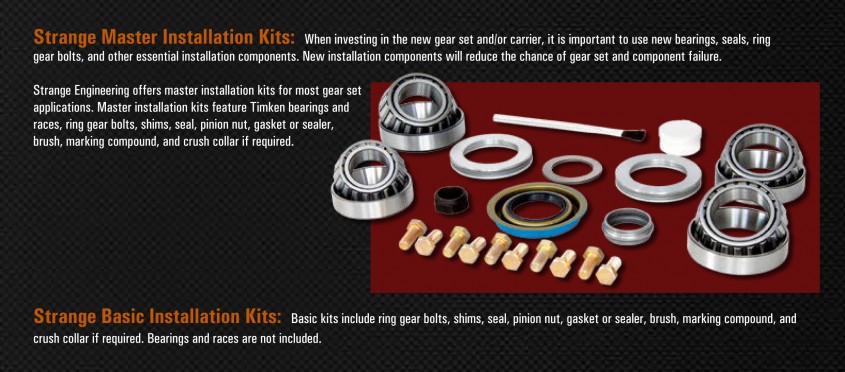 Here is a little information on our products for you to simmer over as you get ready to head to the SEMA show! Our 9310 Drag Race/Pro Gear sets are for Drag Racing ONLY! High nickel 9310 steel gear sets are softer by design to absorb the high impact shock loads that occur in many Drag Racing classes. Our 8620 Pro Street / Standard Gear Sets are for Street AND some Drag Racing applications! The combination of 8620 steel and precise heat treatment result in a gear set with the strength and hardness necessary for excellent life in circle track, street and some Drag Racing applications.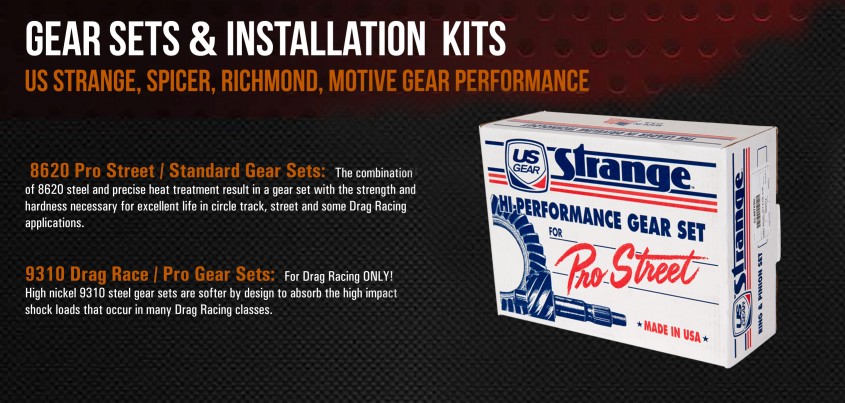 Our new line of 9.5 and 10 inch development gear sets are also for Pro Drag Racing only and will fit into your Ford 9 inch application! See more about this line in the image below: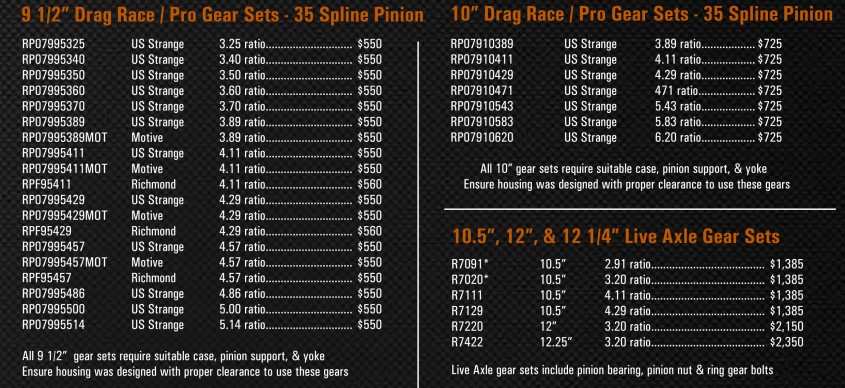 KEEP IN MIND HOWEVER! WE ARE RUNNING A SALE THROUGHOUT THE END OF 2014 FOR AN EXTRA 15% OFF OF THE GEAR PRICES SHOWN (excluding the live axle gear sets) 
All in all, we are very excited about the 2014 season and wrapping up our 50th Anniversary by bringing these awesome products to showcase to you at this years SEMA show! We hope that everyone will stop by booth # 22622 and say "Hey!" and see what the buzz is all about here at Strange Engineering! And Remember, Don`t Just Race…Race Strange!