Strange Engineering sponsored Coyote Stock is a spec-engine class, utilizing a sealed version of Ford's newest power plant, the 5.0-liter DOHC "Coyote" motor (carrying the unique part number M-6007-M50S) and utilizing a spec, sealed processor (CM-12A650-A5LA). The class is open to all Ford vehicles, 1954 model-year and newer, and each competitor is required to weigh-in at the same 3,150 pounds. Competitors compete on a true 10.5-inch tire and have a choice of a wide variety of Ford OE and TREMEC manual transmissions utilizing a single-disc diaphragm clutch, or using the venerable C4 automatic transmission.
The crux of Strange Engineering`s Coyote Stock's formation is to provide an affordable way for both rookie and veteran drivers to be competitive in a heads-up class without having to undertake an involved, expensive engine program. "Strange Engineering sponsored class Coyote Stock is a great way to return race cars to the track with an affordable engine package. It speaks to the original spirit of NMRA racing," said Jesse Kershaw, Drag Racing and Competition Manager at Ford Racing, "The Coyote engine is about half the cost of a competitive Factory Stock engine and about one third the price of a Pure Street engine. It also requires far less maintenance." And today, we want to highlight one of our own, Strange Engineering Coyote Stock driver James Meredith!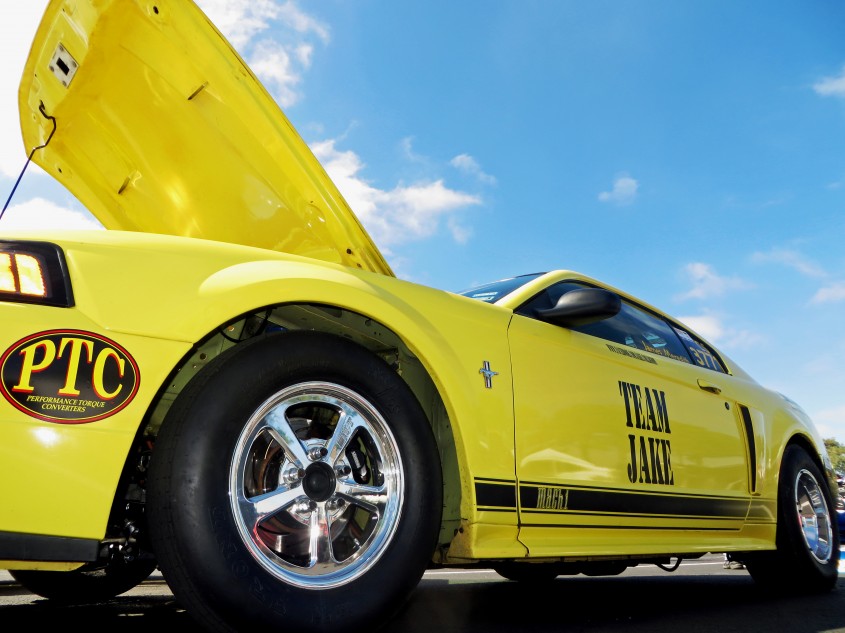 I had the pleasure of interviewing James Meredith at the NMRA event in Bradenton, FL this past weekend! An easy going, smiling spirit with a good sense of humor and a spark that flares for all things racing, James and I took a seat on a pair of 30 gallon coolers in his trailer, and between runs, James shared with me some of his silver lining moments within his racing adventures! Here is an inside look into Coyote Stocks` James Meredith's` racing career, how he got initiated into his now prized infatuation/hobby, and some key moments throughout his time chasing speed down the track!
James tells me he has been in the racing industry for about 10 years. His love affair with Mustangs, began in Houston, TX, when he purchased his first V6 Mustang for his children, who were getting to the driving age; but that he had always pushed away his buddies encouragement to get into racing himself. James tells me, "I had always refused to go, because I have this problem, you know…of doing things to the extreme, and I knew I wouldn't be able to afford it!" Finally, in 2004 he decided to dip his toe into the racing waters! He tried his first batch of racing by testing out his skills in the Fun Ford Weekend circuit. In his first year he simply visited a few of the races to see what they were like, and by 2005 he was following the entire Fun Ford circuit all over the country! He was racing his Mach 1 that he purchased new in 2003. It was not only his race car, but also his daily driver! He had a trailer hitch on it and carried his slicks and jack around while he followed the races! When it came time, James told his buddy, Lloyd McBride,( who had been urging him to get into racing), that he was going to run in the Mod Motor class. Lloyd urged him not to follow the circuit and waste all of his money, but instead to just wait it out and race in the local race when it came around. James recalled to me one statement that sparked the flame to the fire however…reminiscing on Lloyd saying to him, "When was the last time anyone in a normal streetcar won a Mod Motor race?" And to insert a pun here if I may…"the race was on!"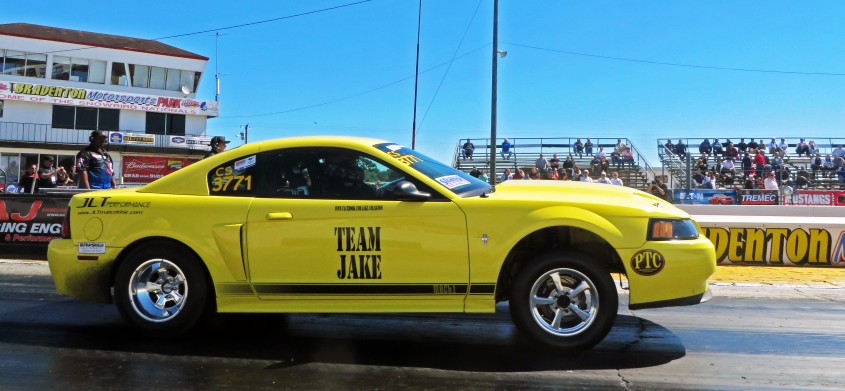 In the season opener James obtained runner up, and later in the season, he took the win in Englishtown, NJ! He immediately called up Lloyd and blurted out the date! When Lloyd asked him why he was calling and blurting out dates, he replied with an excitedly coy: "because THAT was the last time someone in a normal street car won the Mod Motor race!"
After the win, James decided he wanted to go faster! After going through many disasters with trying to tune and get the car faster, he finally met up and put his racecar in the hands of the Pachar brothers, Daniel and Craig, of Triangle Speed Shop, and it has been a match made in Heaven ever since! However, with V6 brakes on the back and a blower on it, he was still trying to keep the car under a 10.0 in order to avoid having to get a license, along with other legalities. So the Pachar brothers tuned the car down to where it was running a 10.90 at the fastest speed. However, with a 10.0 he was left with a blower car that was quote "inconsistent as hell in bracket racing", and personally, James found bracket racing to be a little boring for his taste!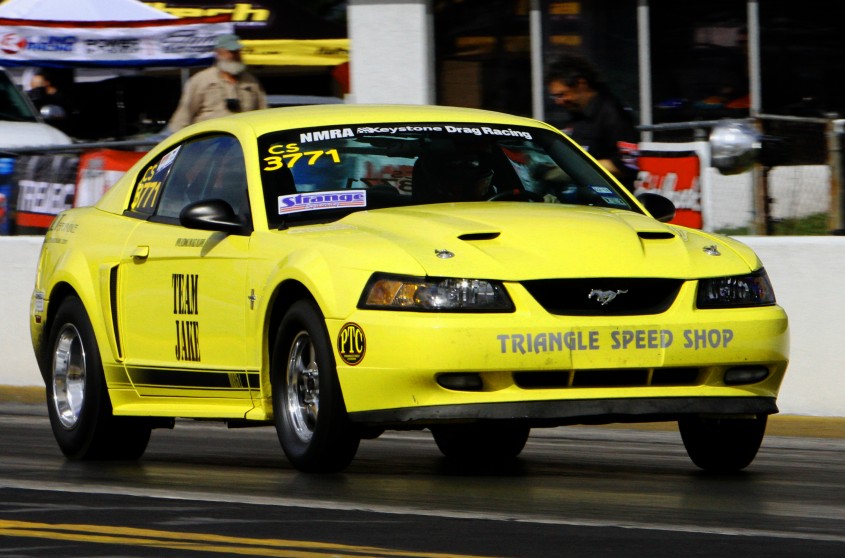 He found his solution the next time the engine had to be tuned, and began to take notice to the Strange Engineering Coyote Stock Class. At Bowling Green, after hearing from the Pachars that Strange Engineering was the way to go in order to "go fast and go strong", he visited the bus out at the track and talked to Strange Engineering Head of Sales, Joe Cascio, known by everyone as JC! He filled his `Stang up with Strange Engineering performance essentials and is now running the only C4 automatic in a class of sticks! As he is telling me this he says "I guess, like I told you before, if you tell me I can`t do something, (laughing) well…I get pissed off and try to do it anyways!" As he tells me this, he informs me that they had just run a 10.69 at 123 mph, faster than anyone had ever run with an automatic, so it appears that pushing the limits must be in James Meredith's` blood!
His bond with the Pachar brothers at Triangle Speed Shop is unbreakable. He raved on about them, quoting them to be the "best of the best", explaining that Triangle Speed Shop is based in Orange, TX.  Following with that he now lives in San Antonio, but that the 5-hour one-way commutes are well worth it! "These guys, you know…I have faith in them, and if anyone is going to be able to make this automatic do it, it`s going to be these guys. They are known for putting the speed onto Modular Motors, Craig has tuned tons of them, and they have built quite a name for themselves."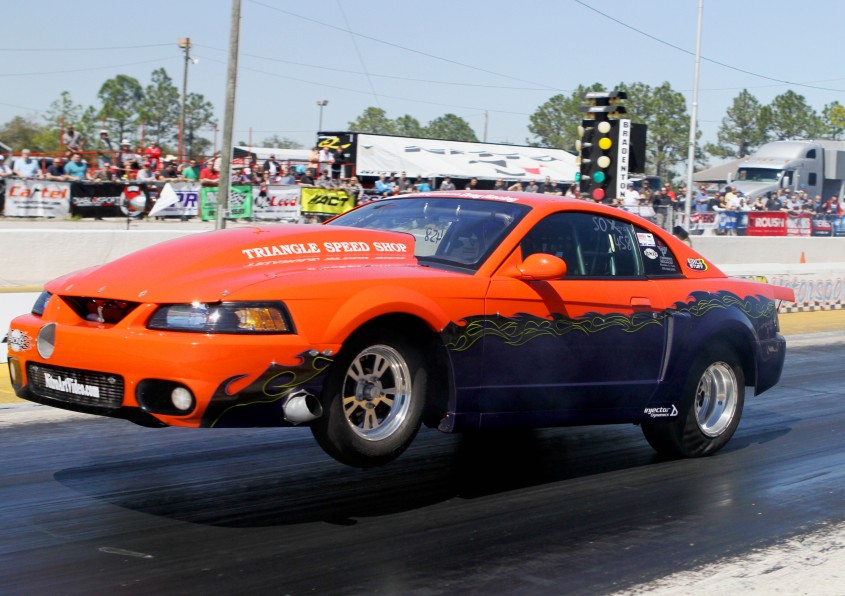 Meredith is now sitting 7th, which is right in the center of the lot of Coyotes. Considering at the beginning of the event to swap in for a stick-shift, their record breaking weekend has changed their minds. Meredith`s Mach 1 is outfitted with Strange Engineering lightened axles, Strange brakes on all four corners, Strange shocks and struts as well as Strange gears. Meredith ended up going out in the 2nd round to Shane Stymiest, who would go on to win the event for the Strange Coyote stock. Stymiest also uses all Strange Engineering products! "We are now sitting right in the middle, and I think we can go faster." says Craig. And his opinion is not of the rookie-kind… Not only are the Pachar brothers big name players in the tuning game, they are no strangers to the track either! The Triangle Speed Shop team, consisting of tuner Craig Pachar and driver Daniel Pachar, is qualified third in ATF Street Outlaw with a 7.16 at 191 mph with the 4.6L Mod Motor combination. They know speed in the shop and they know horsepower on the track, and between the Pachar brothers and James Meredith, 2014 is looking like a record breaking season for SPEED! We at Strange Engineering are looking forward to seeing what these three will accomplish in the 2014 season, along with all of our other Strange Engineering Coyote Stock Class racers! So until next time, Don't Just Race… Race Strange! ~ C.B.