The Fonse Performance K & S Dyno Wars have made the phrase "Business Never Personal" into a slogan that race enthusiasts of all sanctions get excited about when the new year rolls around. During the midst of winter, when race cars are covered up in the garage, and tracks country wide are battling ice and snow, it is easy for racers to catch a case of the "winter blues." The Dyno Wars offer a platform for the men and women of our sport, and power enthusiasts alike, to come out and compete in a hardcore, heart pumping, horsepower competition. Not only is this the largest dyno event of it`s kind, but most would agree that it`s just what the doctor ordered! Strange Engineering wholeheartedly agrees, and are excited to announce that we are coming on board to be the Presenting Sponsor of the Fonse Performance K & S Dyno Wars III in 2015!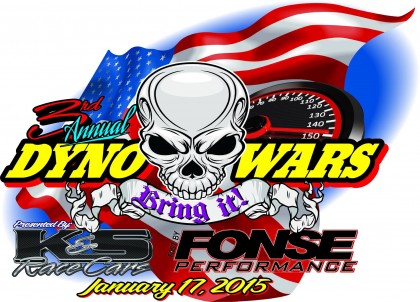 Each competitor has the opportunity to make 3 passes, and they have 1 hour to complete the 3 passes. This allows them the opportunity to tune the car as they see fit. 



Each car must be driven onto the chassis dyno and then driven off the chassis dyno under it's own power. Once the vehicles are strapped down to the dyno, anything goes! Mike Serrano took the win in 2014, when his turbocharged 602 cubic inch big block-powered Camaro laid down an impressive 1185 horsepower! Check it out below!
Over 800 people attended the 2014 event, based off of a competition of the highest rear wheel horsepower of the registered and insured vehicle. This year, the Dyno Wars have had a major increase in sponsorship support, allowing them to increase the payouts! The winner of Dyno Wars III "Business Never Personal" will now receive $1350 in cash, a $250 gift certificate from Mickey Thompson Performance Tires & Wheels and an Aeroforce gauge courtesy of Powerhaus Performance! The runner-up will now receive $900 in cash plus a $250 gift certificate from Mickey Thompson Performance Tires & Wheels!!! Last year M/T tires kicked in another $500 in gift cards, Atco Raceway gave $200, Cecil County gave $200, and several other local businesses sponsored the event! They also had a full size practice tree with prizes as well as many contests for spectators to "Guess the Horsepower! In addition there will be a live engine dyno VP race fuels demonstration! The Fonse Racing Facility provides a place indoors for spectators to see ALL of the action, as well as live music playing into the evening!
Strange Engineering will be adding to the goodies for our racing community to pick up, providing 300 goody bags containing our brand new Strange Engineering catalog, and a Strange Engineering keychain! We are also sending banners, decals, and 20 of our famed "Get Some Strange" tee shirts! But for those of you attending this event, keep your eyes peeled, because word has it that something "Strange" may be revealed on the man himself, Alfonse Jr.s` race car! Strange Engineering is very excited to support our fellow racers; and with the East Coast holding some of the most passionate grassroots racing in the country, Strange Engineering was happy to lend a hand in our customers getting their "horsepower fix"!
Come January 17th, we encourage all of you to get out of the house and get in on the fun! The K&S Race Cars / Fonse Performance Dyno Wars presented by Strange Engineering is open to the public and is also a free event! The competition starts at 9:00 a.m. and takes place at Fonse Performance 1042 Kearsley Road, Erial, NJ 08081. Details about the event can be found on their Facebook page here: https://www.facebook.com/events/353868771420277/ . And as always….Don`t Just Race….RaceStrange!