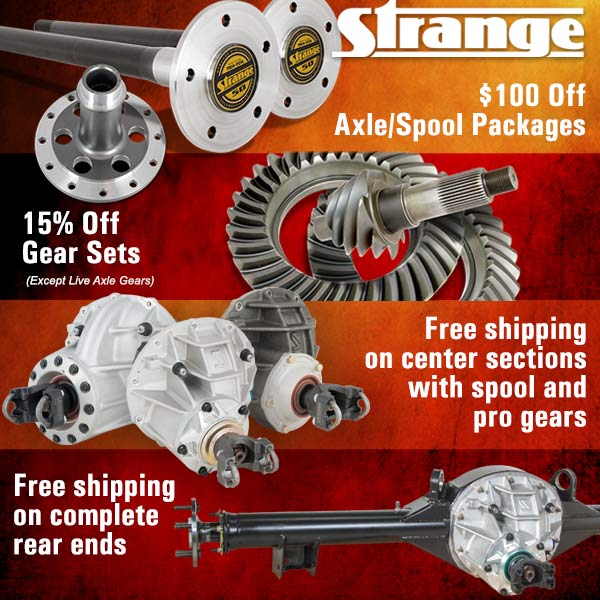 Strange Engineering is proud to be celebrating its 50th anniversary in 2014 and wants to show its appreciation to its loyal customers by offering special sales and promotions throughout 2014.
From October 1st to December 31st, customers will receive 15% off of list price for all gear sets (except for Live Axle). The discount applies to both standard and pro gear sets. Strange stocks U.S. Gear, Motive Gear, Richmond Gear and Dana/Spicer gear sets. Even with Strange's extensive inventory, some ratios may go fast, so don't delay.
We are also continuing the Axle Spool Package Sale. The axle and spool packages are complete kits with axle bearings and your choice of 1/2″ or 5/8″ wheel studs. Packages are designed to fit Ford, Mopar, GM and other common rear end assemblies. You will receive $100 off the axle spool package. For the 2014 Calendar year, Strange Engineering is offering a special "axle logo" in celebration of our 50th Anniversary.
New to the promotional list is FREE shipping* on Center Sections with Spool and Pro Gears. As well as Complete Rear Ends. (Excluding live axles) Plus $50 off any rear brake kit added to your complete rear end.
*Free Shipping is UPS Ground or Ground freight for the contiguous 48 states (lift gate not included).
Strange Engineering's highly trained staff is available to  ensure proper part selection. Call us M-F 8:30 to 5:00 CST. 847-663-1701