Ring and Pinion Ford 9 inch Gears
Strange Engineering only uses the highest quality Ring and Pinion Ford 9 in Gears available from U.S. Gear, Motive Gear and Dana/Spicer. We offer ring and pinion Ford 9 in gears in all the ratios, diameters and spline counts you're looking for to complete your drag car build.
The 8620 pro street gears provide excellent life for circle track, street and some drag race applications. The 9310 pro gears are designed drag racing only and absorb high impact shock loads that occur in straight line racing applications. When investing in a new ring and pinion gear set, it is important to use new bearings, seals, ring gear bolts and other essential installation components. Strange offers a wide selection of installation kits to compliment the line of ring gears.
Feel free to call us and help you decide how to gear your car for the street or strip. Or if you know the ring gear ratio you want you can order your ring and pinion gears now on the strangeenginering.com website now.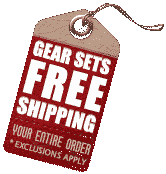 Order any Gear Set Online and get free delivery and handling on your entire order!
Offer excludes truck freight and oversize fees. UPS Ground Only.
Valid on orders shipped in the contiguous United States.
Standard Gears are the perfect choice for replacement of OEM gear sets Providing long service life in Street, Street / Track, & Oval track vehicles These gears can also be used in some Drag Race cars depending on weight & power If tooth breakage occurs, then Pro Gears or a larger rear end will become necessary Machined From 8620 Forged Steel Heat Treated to Maximize Gear Life Matched Ring & Pinion Set Ring Gear - 9" OD - Tooth count 39 - 10 bolt holes - 7/16"-20 RH threads Pinion - 28 spline shaft - Tooth count 13 - 3/4"-20 RH threads Unsure about your application? Please contact a Strange Sales Associate to discuss your vehicle INSTALLATION KITS Using Tapered Bearing Pinion Support OEM standard................. R5235 / R5235WR Daytona style................... R5236 / R5236WR HD Pro & Drag race........ R5237 / R5237WR Ultra case.................... R5237UC / R5237UCR Using Ball Bearing Pinion Support HD Pro & Drag Race...... R5237B / R5237BR Ultra & Billet cases... R5237UCB / R5237UCBR