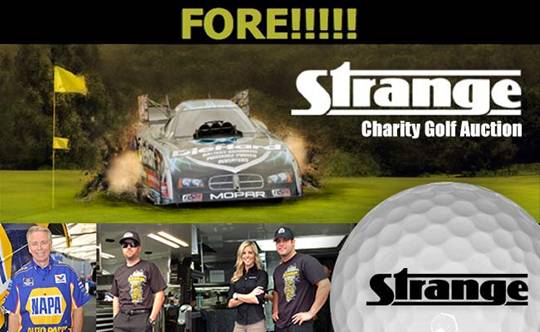 Strange Engineering is excited to announce an opportunity of the very important kind, a true experience like nothing else, the chance to play golf with the current two points leaders of the NHRA Top Fuel and Funny Car racing divisions. Shawn Langdon, Matt Hagan, and Napa Funny Car Crew Chief, RahnTobler have so generously offered their time to play on our team for the Eric Medlen Memorial Golf Tournament, which happens to be an event very near and dear to our hearts at Strange. The top bidder in our auction, being held on Ebay, which you can reach via the link below, enjoys a full day of golf at the tournament. It doesn't begin to end there! Following the tournament on Thursday, said winner and a guest will be provided with tickets to enjoy the full weekend at "The Big Go" at Indianapolis Motor Speedway. Special access to up close viewing action, the Strange bus/lounge, and some very special Strange apparel will also be included. Don Schumacher Racing has so generously donated two passes to their hospitality on Monday's race day for the package winner as well. All proceeds from this auction will benefit the Peyton Manning Children's Hospital, located in Indianapolis.
The auction began last Friday and ends this coming Sunday. Please follow the link below to the site where you can place your bid:
http://www.ebay.com/itm/Golf-Outing-NHRA-VIP-Race-Experience-/261266239574?