Strange Engineering wants to get EVERYONE involved in this upcoming event! Rocky Phillips, from Eagle Field Drags is putting on an event in February (dependent on weather, check their Facebook event page for updates!) The event is a volunteer event, as are all of the events out at Eagle Field! That`s right, the people that make this racing possible are ALL VOLUNTEERS! Meaning that the insurers, the ambulance team, the facility providers, and the entire Eagle Field Family will be working for the LOVE of their historic Eagle Field.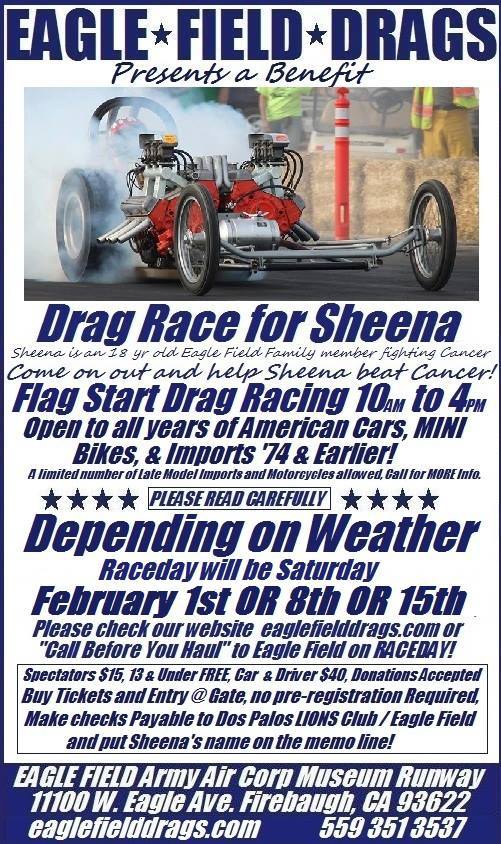 But it is not only drag racing love that will be at work for this race! This event, is also in support and love for one of Eagle Fields very own, Sheena Hunter. Sheena is a beautiful 18 year-old sweetheart, who has been bravely battling cancer. She has a long road of chemo and radiation treatments ahead of her and as you can imagine it's taking quite a toll on the family in every way, and Rocky and the Eagle Field Family are putting on this event to help Sheena and her family in their time of crisis. Rocky Phillips tells us a little about how awesome Sheena is here:
"Sheena is the daughter of an Eagle Field "Volunteer" family who have been supporting Eagle Field longer than I, she is 18, has Lymphoma and currently has one more Chemo Treatment before starting Radiation. She is like a daughter to us; smart, polite, respectful and after beating cancer has plans for college and or joining the Navy. If all signs of her Cancer are not gone by the end of Radiation she will have to start Chemo again. The signs are promising and I feel the love and support from the benefit race alone will help with the healing and raise her spirits. Drag Racing is all I know and the only way I felt I could have a substantial impact is doing what I am passionate about and do to my best ability..an Eagle Field Drag Race event."

Sheena, the Starlight of the Event!
Strange Engineering is SO GRATEFUL  to be able to take part in and help Sheena and her family, and we want YOUR GOOD WILL AND EFFORTS AT WORK ALSO! The race is set for Feb. 1st, where everyone needs to come on out and "Burn Rubber for Sheena!" 100% OF ALL PROCEEDS from the event will go directly to Sheena and her family!
The event is open to all years of American Cars, MINI Bikes, and Imports '74 & Earlier! Flag Start Drag Racing is from 10 a.m. to 4 p.m. *Note! ~ There will also be a limited number of Late Model Imports and Motorcycles allowed! ~ Call for more info! (559).351.3537.
Stay tuned to the Eagle Field Family page for more info! Here is the latest from Rocky:
THE RACE HAS BEEN POSTPONED FROM THE FIRST WEEK IN FEB. AND WE WILL UPDATE WHEN THE NEW DATE IS FOR THE EVENT!
Ticket Prices and donation information is below:
Spectators- $15, 13 & Under FREE!, Car and Driver $40
DONATIONS ACCEPTED AND APPRECIATED!
If you cannot make the event and you still wish to pay it forward and donate to Sheena`s cause, please make checks payable to Dos Palos LIONS Club/Eagle Field and put Sheena`s name on the memo line! The address for the event is as follows:
 EAGLE FIELD Army Corp Museum Runway

11100 W. Eagle Ave.

Firebaugh, CA 93622
Their website, where more information can be found is www.eaglefielddrags.com 
And Remember, Don`t Just Race….Race Strange!