With the Spring Fling coming this week, who better to catch up with than Peter Biondo! I was able to track down the racing powerhouse in Commerce, GA at the Atlanta Dragway for an interview. Here is what Peter had to tell us about not only his success on the track as a racer, but also his "dream come true" creation of the Spring Fling, with the partnership of long time friend, and co-owner of the Fling, Kyle Seipel.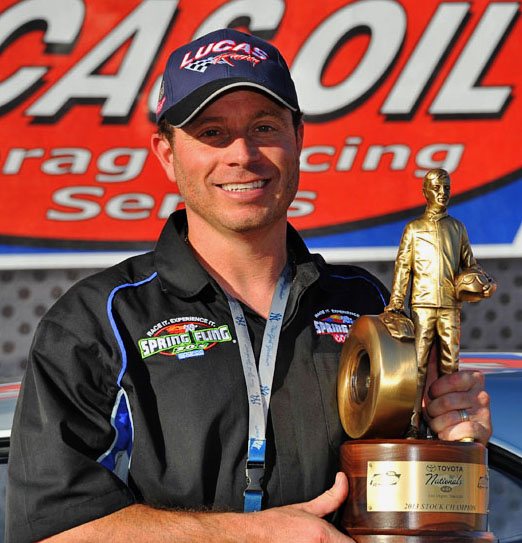 Peter Biondo is from Queens, NY. He races Super Stock in a 1998 Firebird, and Stock in what he refers to as "his baby", a 1969 Camaro. His career is peppered with nothing short of great `feats. Under his belt he has 48 NHRA National Event wins, 13 Divisional Championship wins and wait for it…..6 NHRA World Championships! I think it would be fair to say that he may be heading for 7 of those World Championships. At least I will say that he situated himself very nicely in Commerce, taking the win against Jimmy Hidalgo Jr. in the final round. Particular to this event, and something that has never happened to Biondo prior, every single competitor red lighted against him, leaving him to take the Super Stock win in his 98` Firebird with an et of 9.70. Peter said this has been one of the best starts to a season – if not the best – that he has ever had; and he has his eyes set firmly on going for a 7th World Champioship. But it wasn't always Firebirds and Camaros for Biondo. He laughs as he tells me that he started racing in 1989 with the family "grocery-getter station wagon." Upgrading through the years to racing his first personal car, a Mustang GT, to his 69` Camaro, and also a 7 second dragster that he still races in the brackets. Peter has been a force to be reckoned with on the racer spectrum of the sport, but what he is buzzing about now is the opposite end of that spectrum, the hosting of what has become the two most popular races on the East and West Coast for Sportsmen, and that is the Spring Fling series!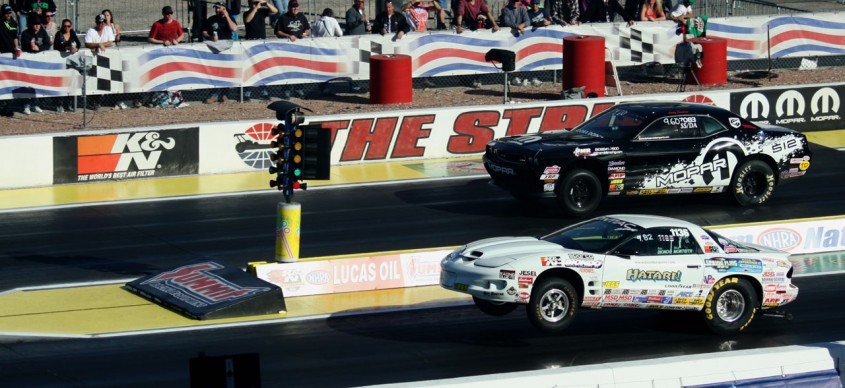 We at Strange Engineering are so excited to be able to get in and be a part of this years Spring Fling and the Sportsman appreciating atmosphere that Kyle and Peter and created with their event. I attended the Fling in Las Vegas this year and I can say in full confidence that it was the most FUN event that I have attended thus far! Eager to hear more about the creation and progress of the Spring Flings throughout the years, as well as what to expect this year in Bristol- I quickly moved into another interview for Peter, focusing on the Flings!
How was the Spring Fling created between you and Kyle and what made you two decide to go into it together?
I have known Kyle for years, we both were raised on the track and became friends way back. We took a New Years Eve vacation to Tahoe, and just got to talking about our careers and racing in general. Kyle was not happy in his day job and was looking for something more, and we are both very passionate about racing and the sport. After talking about it for a little while we thought "Why not? It`s our passion, it`s what we love, we've got confidence in it and if anyone can do it than it is us!" So it was actually on that vacation trip that we decided to take it on.

It wasn't an easy though. It started off as a headache! The first year in Bristol, we only had 3 months to promote it. We guaranteed the purse and we had a horrible weather forecast….50-60% of rain every day, and we had guaranteed the purse even if only two cars showed up. I was practically having anxiety attacks the night before, (laughing) thinking that no one would come up for the weather. And to this day, it was the hardest I`ve ever worked to lose $17,000! But, long story short: two to three weeks after the Fling, we started getting so much positive feedback that we said we would be crazy not to do this again. After three years in Bristol, Kyle quit his day job and dedicated himself to the Fling full time, and we now have the Spring Fling in Bristol, as well as in Las Vegas.
What would you say the main difference is that you see between the East and West Coast Spring Flings?
Great question. The East coast and the West coast are total night and day difference. The people out West, because they haven't seen a big buck bracket race like this- not to say that the East coasters aren't- but the West coasters are much more excitable. The East coasters have a lot more options and they see a lot more big bracket racing. They are very appreciative. They love it; but they are very intensely focused on their racing during the events. In saying that, Bristol is like our first born, we absolutely love it, and the passion and focus that these guys bring to the Bristol Fling is what it`s all about here on the East Coast.
Which event would you say has the bigger car count?
Bristol has a bigger car count. We end up getting about 450-500 cars at each; but in Bristol there are only two categories. So if you are really going to compare apples to apples, Bristol has a bigger car count.
What changes have you made that we can be looking forward to this year in Bristol?
In Bristol we have made a big change this year. We had around 500 cars last year, and we have continuously had people telling us that the Fling reminded them of the "5-day Moroso" back in the day- which was "the race to go to" back in the 80`s and 90`s. So this year, we have added a full day and made it a giant 5 day event.

We also added to the purse. We added from a $13,000 race to a 15,000 race for the Thursday event. We always have the three $20K races, but we have added $3K to the Thursday race. That way, if a racer wants to get out and race for the 20`s and the 15K, and cannot get out until Thursday, they can still win..and if a racer wants to race for the 20`s and leave out on Sunday, they have the possibility to win the 15k on Thursday too. Eighty percent of the people run all five days…namely, because they are already there, but also because there is more money to win by continuing. Thanks to Wiseco Pistons we have a 5 day points fund, where we keep track of who goes the most runs throughout the 5 days, starting on Wednesday, and that pays $5,000 out also.
Right about that time in our interview Anthony Bertozzi and Rodney Eades walk up. Rodney says "Put it on the record that the Spring Fling is the best race of the whole year." Anthony and Rodney cook for everyone on Saturday night at the racers appreciation party. In addition to having these two grinding out 5 star meals for 750 + people, singer PJ North will be performing this year in Bristol! The boys share a buzz of excitement about seeing him perform live. The racer appreciation party is one to write home about from all I have heard, and I am pretty excited to get out there and mingle around and see this party in action! As the men exchange stories back and forth, Peter chimes back in on the Fling to close up our interview :
The Fling is really the American Dream come true….it`s a lot of work, but Kyle and I are really passionate about it and eventually we would like to grow to a third race. Two guys, that were raised at the race track that started from scratch…used logic, followed their passion, and worked really hard and it has turned into a dream come true. Something that we constantly work at and constantly study for ways to keep it alive and make it thrive. It is really a dream come true for us, and Bristol…it`s gonna be BIG.