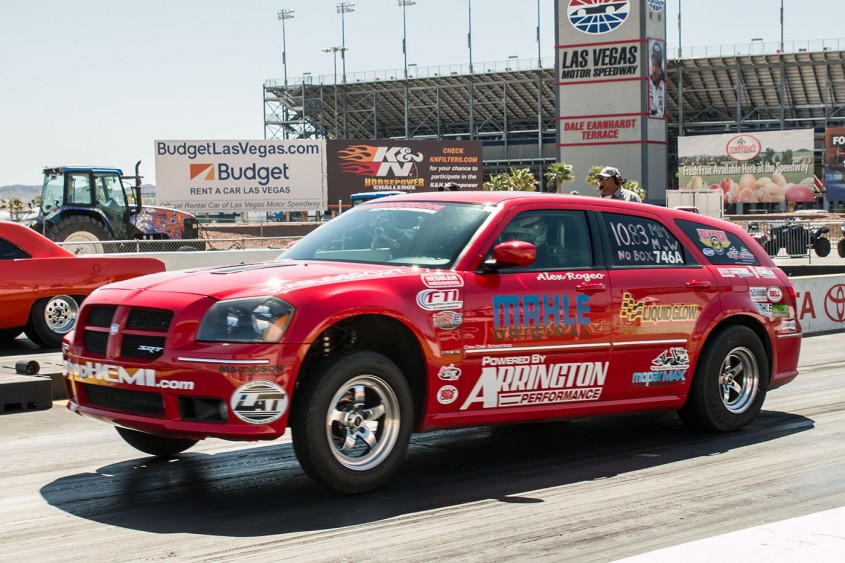 Alex Rogeo aka, "The Car Girl" put together this short clip explaining her upgrade to her 2007 Dodge Magnum with Strange Engineering Drag Pak front brakes, touching on the improvements she experienced by upgrading with Strange Engineering. Here is what she had to say!
"The brakes that come stock on a late model Challenger, Charger, Magnum, or Chrysler 300 are great for the street; but they are a bit heavy and you don't really need that at the track."
Rogeo chose to upgrade her Dodge Magnum with Strange Engineering Drag Pak front brakes. The benefits Rogeo listed as her most noticeable were weight saving on the brakes themselves.
"The smaller brakes let you run a smaller and lighter wheel, which lets you run a smaller and lighter tire."
Altogether, Rogeo saved over 90 pounds off the front end of her car ~ which she explains helps with weight transfer at launch, which also helps to improve reaction time and elapsed time.
"Strange Engineering is the OEM supplier to Dodge, for the factory Drag Pak Challenger. SO it is no surprise that the Strange Engineering front drag brake kit comes with everything you need to bolt on to factory RT spindles.(Note that the kit does not fit SRT8 spindles)."
Rogeo picked up more than a tenth of a second of ET at the track, saving a total of 93 lbs off of the front of the car with the brakes, wheels and tires. Her reaction time improved, and she experienced much improved front end lift as well as weight transfer.
Alex Rogeo, aka "The Car Girl" races an 800 hp 2007 Dodge Magnum in PSCA and NHRA. In addition to the Strange Engineering Drag Pak front brakes, Rogeo runs the Strange Engineering double adjustable shocks on the front and rear, as well as a Strange 9″ S-Series center section with a Daytona pinion support and Strange 3.50 gears.
For more information about any of the above listed products, or to purchase, please see the links provided below:
Strange Front Drag Pak Brake Kit:   http://www.strangeengineering.net/catalogsearch/result/?q=b4184wc
Strange S-Series 9″ Center Section:  http://www.strangeengineering.net/product/strange-9-nod-s-series-case-3-250-bore.html
Strange Daytona Pinion Support:  http://www.strangeengineering.net/product/daytona-iron-pinion-support.html
Strange 3.50 gears:  http://www.strangeengineering.net/product/motive-gear-ford-9-3-50.html
Strange Double Adjustable Shocks: http://www.strangeengineering.net/catalogsearch/result/?q=s5085
For a copy of your own brand new Strange Engineering catalogue, follow the link below:
http://www.strangeengineering.net/strange-2016-catalog-is-here
Or, to visit our new website and see all the Strange Engineering has to offer for your racing experience, visit us at http://www.strangeengineering.net